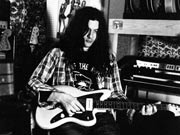 13 April 2019
8:00 - 11:00
Kurt Vile & The Violators
Last here in January 2016, Philadelphia singer and songwriter supreme Kurt Vile is bringing his Violators back to New Zealand, and the timing couldn't be better if we'd planned it…
Out October 12 in New Zealand on Matador via Rhythmethod, Bottle It In is the almighty follow up to last year's Kurt Vile / Courtney Barnett collaboration, Lotta Sea Lice, and features collaborations with Kim Gordon (Sonic Youth), Mary Lattimore, Warpaint's Stella Mozgawa and Cass McCombs.
If first single Loading Zones and the near-ten-minute, out-today Bassackwards are anything to go by, it's clear we're in for another round of sun-soaked, hazy guitar anthems with time and melody to spare.
In 2013, the city of Philadelphia named August 28th 'Kurt Vile Day', and now we're announcing a couple of dang Kurt Vile days of our own. This is gonna be good.