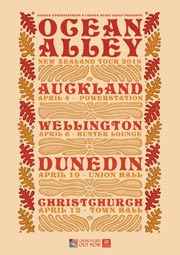 Eccles Entertainment is proud to announce that Australian psychedelic surf rockers Ocean Alley are returning to New Zealand for their biggest national headline tour yet. Their last run of New Zealand headline shows in August 2017 was a sell out and the lads have steadily built on each and every tour they have done on our shores.

2018 was a bumper year for Ocean Alley. In March they released their hotly anticipated second album Chiaroscuro which to date has racked up over 18 million streams worldwide, while their full catalogue has amassed over 40 million streams! Triple J declared it a 'sun drenched, genre bending delight' while The Music named it one of the 'Top 30 Albums of 2018 (So Far)'.

Ocean Alley have spent the majority of the year on the road smashing out just short of 100 shows in 10 different countries and 60 different cities, selling over 25,000 tickets for their Australian dates alone! Rounding out their biggest year yet, the independent band have just wrapped up their final North American shows supporting Tash Sultana before returning to their homeland to ring in the New Year at the prestigious Falls Festival.

This tour announcement marks a new partnership between Eccles Entertainment and Ocean Alley. Eccles Entertainment is New Zealand's premiere booking agency and concert promoter service. They look after the biggest names in New Zealand and Australian music and with the new wave of top calibre Australian acts such as Ocean Alley coming through New Zealand more often; they look forward to this ongoing relationship.

With their last tour selling out well before show dates, fans are urged to purchase tickets early from official ticket outlets to avoid disappointment.