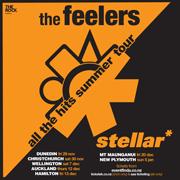 7 December 2019
The Feelers & Stellar*
All The Hits Summer Tour
From busking on street corners to becoming pioneers of the kiwi music industry THE FEELERS are thrilled to announce a comprehensive NZ tour this summer; joined at select locations by iconic NZ band stellar* who celebrate the 20th anniversary of their debut album MIX.
THE FEELERS; ALL THE HITS SUMMER TOUR
Schoolboy friends James Reid and Hamish Gee started a legacy that has spawned some of the greatest songs written in New Zealand. They will be bringing their anthems to New Zealanders alongside their mates stellar* in a nostalgic reunion of two illustrious NZ bands. THE FEELERS will also be dropping a new single appropriately titled SUMMER RIDE.
Band member Hamish Gee states, "The band can't wait to get back on the road. It's been a few years
since we've played a large summer tour and we're excited to be test driving a couple of new tracks, as
well as smashing out all our favourite hits from the past two decades. So stoked to be playing alongside
our great mates stellar*".
With seven Top 20 hits under their belts, Boh Runga and the stellar* boys are promising a setlist to match the tour's "All The Hits" tag. Says Boh, "This is going to be a tour to remember! Summer will be kicking in, we're celebrating the 20th Anniversary of our Mix album, the band is sounding better than ever, and we get to have fun all over Aotearoa with our old pals The Feelers. Bring it on!"